Using Windows or Mac? You can use Password Live on your desktop as well!
Desktop version of Password Live is extremely lightweight and easy to install. You can see what it looks like right here in the picture: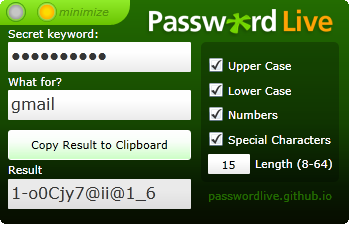 ---
Key features
It's free
Easy to use
No advertisements or pushy content
No Internet connection necessary
The result can be copied to the clipboard with just one mouse click
You can pin it to the taskbar on Windows or keep it in the dock on the Mac
Weighs only 311KB!
---
Installation guide
The desktop version of Password Live requires Microsoft Silverlight installed on your computer. Silverlight is a small browser plug-in like Adobe Flash. The three easy steps below will guide you through the installation process:
Please make sure you have Microsoft Silverlight installed by visiting www.microsoft.com/getsilverlight.

Once Silverlight is present, you should also see the Password Live application in the window below. If you can't see it after the installation is complete, then please restart your browser.
Now right-click (ctrl-click on the Mac) on the window with the green border above and select 'Install Password Live onto this computer'.
Congratulations! Password Live is now installed on your desktop computer!